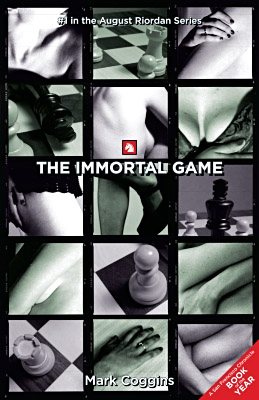 When the world's most innovative computer chess software is stolen, wisecracking, jazz bass-playing PI August Riordan is hired to find it.
Sifting through a San Francisco peopled with bruising, ex-NFL henchmen, transvestite techno geeks, and alluring, drug-addicted dominatrices, Riordan has got his work cut out for him.
But with a smart-ass attitude like Riordan's, nothing is easy …
A darkly comic sojourn through a town unrecognizable from the Tony Bennett song and the Rice-a-Roni ads, The Immortal Game is a Shamus, Barry, and Independent Publisher (IPPY) award nominee.
Reviews and Recognitions
Selected by the San Francisco Chronicle, the Detroit Free Press and January Magazine as one of the top ten mysteries of the year.
Selected by mystery maven Otto Penzler as a "Penzler's Pick" for Amazon.com.
Nominated for a Shamus, Barry and Independent Publishers Award (IPPY) in the Mystery/Suspense/Thriller category.
"Smart, stylish, sexy and amusingly insouciant. It's a true find, a well-written and sophisticated addition to the heralded San Francisco private-detective story…a panoramic tour de force."
—San Francisco Chronicle
"Mark Coggins writes tight prose with a clean, unadorned style; he is a Hammett for the turn of the 21st century."
—Loren D. Estleman
"Gritty…seamy…very, very funny. [Coggins] has given the form fresh life."
—National Public Radio
"Here's a first novel that pays homage to Hammett, Chandler, and every wisecracking PI in the genre, and then some. It also introduces one of the most delightful characters to come along in some time: August Riordan, a jazz bass-playing PI who is cynical, irreverent, and a laugh a minute."
—Otto Penzler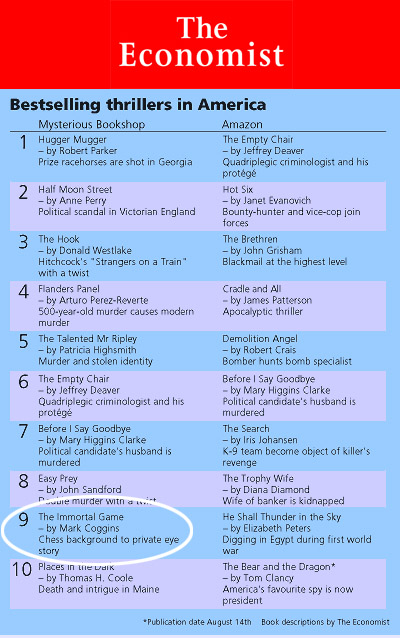 "This small-press PI mystery proved such a success that its first printing quickly disappeared and became a collector's item… Coggins hauls us on a dark, hip journey into the grittier parts of San Francisco, with only an occasional appearance of the city we know from Rice-a-Roni ads…a superb new take on a classic mystery form."
—Detroit Free Press
"One of the best books of the year. It is truly a winner on many levels … Reminiscent of golden age detective novels, this book is a true gem."
—Deadly Pleasures
"The ride through the mean streets of San Francisco is a voyeur's delight."
—January Magazine
"Riordan… exhibits a blend of smart-aleck patter and romantic alienation that closely mimics the persona of Chandler's Philip Marlowe… [and] he inhabits a world that plausibly combines sordid realism with the free-floating unreality of a fairy tale… Most appealingly, [Coggins] uses the city itself to great effect, moving his sad, jazz-playing knight-errant like a chess piece across the fog-hemmed streets of North Beach, Nob Hill, and the Tenderloin."
—Only Detect
"I loved the book! It has great characters, a terrific plot and, of course, it is a great pleasure that chess is so integral to the story."
—Patrick Wolff, two-time US Chess Champion
"August Riordan takes the reader on a wisecracking, action-packed ramble through San Francisco's kinky sex milieux, including S/M and bondage emporia."
—Jazz Fiction: A History and Comprehensive Reader's Guide
"I couldn't put this book down. And it wasn't just the quick pace, clever plot, and even more clever wit—the writing is clean and Coggins's style has a familiar-yet-fresh feel."
—Suite101.com
"Coggins clearly recalls the old masters in his debut novel. Think of it as The Maltese Falcon played out at the end of the century. Short on the genre cliches that have become all too common today, Coggins' novel has all the power and wit that make a detective story into a great read."
—The Bookman's Week
Read an Excerpt (click to expand)
Chapter 1 – Opening Moves
The left front tire of my battered Ford Galaxie jolted into a pothole, and the last of my factory original hubcaps popped off and went rolling down the slope behind me. I slowed the car to a stop and watched in the rear view mirror as the hubcap hit the shoulder of the road and bounced into the brush below. I had planned to use the hubcap with my silver tea service as a crumpet tray, but I could see now that those plans were kaput.
Another car appeared in the rear view mirror, so I eased off on the brake and continued my journey up King's Mountain Road. I was driving from my office in San Francisco to the Woodside residence of a potential client, Edwin J. Bishop. Woodside is an exclusive, semi-rural community nestled in the coastal hills of the San Francisco Peninsula. All I knew about Bishop was that he had founded and taken public three very successful computer game companies and he needed a discreet private detective with a strong sense of professional ethics. It was his tough luck he happened to pick me.
I zigged and zagged along King's Mountain for another half mile until I came to a narrow driveway guarded by a tall wrought iron gate. The gate had the name Bishop written in iron script along the top and stood between flagstone columns. I pulled into the drive and got out to fiddle with the speaker gizmo on the right column. I punched the call button a few times and eventually a high-pitched voice issued from the speaker:
"Who is it, please?"
"Riordan," I said. "August Riordan. I have an appointment to see Mr. Bishop."
Something buzzed inside the gate column, and an electric motor kicked in. I watched as the gate swung open and then got back into my car and entered the grounds.
The drive wound its way through a stand of aging oak and then abruptly the trees ended and the road climbed lazily up a grassy knoll. At the crest of the knoll stood the house, a tall, solid-looking structure with flagstone walls, a peaked slate roof, and plenty of latticework windows. The windows on the second floor had wooden flower boxes beneath them with a full crop of brilliant red tulips. Four stone chimneys sprouted from the rooftop and two ornate weather vanes in the shape of fighting cocks kept them company. A detached garage big enough to hold the Hughes Spruce Goose stood on the left. I parked next to the garage by a gleaming Jaguar convertible and legged it up to the front porch.
There I found a wide green door with the wrought iron silhouette of a bishop chess piece tacked in the middle. The bell played somebody's famous waltz when I pressed it, but we weren't on a first name basis. Shuffling steps sounded inside, and the door was opened by a lanky young man with frizzy brown hair and a long frizzy beard. Gold wire rim glasses were balanced on his thin nose, and he wore cutoff jeans and a tie-dyed shirt that looked like the cross section of a sick man's colon. He was shod in heavy leather sandals that only partially obscured feet that were black with dirt. His toenails were long enough to slice bread.
"Mr. Bishop?" I asked reluctantly.
"Yes, I'm Bishop. You're the detective then?"
I admitted I was.
"Good," he said, and thrust the door open wide. "We need to take quick action on this. Please come with me."
Bishop executed a sharp pirouette and marched out of sight. I stepped inside and closed the door behind me. Five yards ahead, Bishop was making good progress down a wide hallway that ran the length of the house. Maroon tapestries hung at regular intervals on the interior wall, and two knights in armor were placed in strategic locations by the front windows. Even more impressive was the floor. It was covered by slabs of highly polished gray marble with gold metal inlaid along the edges. Linoleum was just a funny word to this guy.
I quickened my stride and caught up with Bishop as he stopped by a door in the hallway. He made a big show of holding it open for me and I walked past him into a large room with dark mahogany paneling and carpet so thick you needed hip waders to get around. In the center of the room was a grand piano splattered with piles of haphazardly stacked sheet music. Over the piano hung a massive chandelier that was better at looking regal than giving off light. The remainder of the room's furnishings were clustered in the far corner: a long desk with various pieces of computer equipment strewn across it, a high-backed chair to go with the desk, a coffee table, a small chess table with chessmen set out across the top, and a brown leather couch.
There were also two blondes in string bikinis lying on the floor playing a game of Monopoly.
"Jodie and Lisa," said Bishop behind me, "I'd like you to meet Mr. Riordan."
The two women stood up to face me. Both were tall with hair cropped closely in the same ultramodern style. Their lips and nails were painted dark crimson, and their microscopic swimsuits revealed a lot of well-shaped and deeply tanned California-girl flesh. The one named Jodie had a more generous figure and smiled a brighter smile. Lisa was a shade thinner and seemed more reserved. I shook hands with both of them, feeling about as silly as you can feel when you're introduced to near-naked women while wearing a business suit.
Bishop came up behind them and patted them each on the butt. "You'll have to excuse us, girls," he said. "Mr. Riordan and I need to talk over the theft of my software." The women gathered up the Monopoly equipment and walked out of the room. I turned to stare at their backsides and was caught in the act by Jodie. She giggled a bit and flashed me a smile that you could take to bed with you.
Bishop gestured for me to sit down on the couch and settled himself in the high-backed chair behind the desk. He looked me over slowly without saying anything, and then tilted up his chin and began stroking the underside of his beard with the back of his hand. I stood about a half minute of the performance, then said, "Nice friends you got there."
"Jodie and Lisa are my paid companions, of course," said Bishop. "I don't have the time or disposition to interface with women in the traditional manner. I find this arrangement satisfies my needs with the greatest expediency."
"Yeah," I said, "I've been to a few Tijuana hookers myself."
Bishop took his glasses off slowly and laid them carefully on the desktop. "If you were a physician, you would not get high marks for your bedside manner."
"Then I guess it's a good thing you're not hiring me to remove your adenoids."
"Hardly, Mr. Riordan. In point of fact, I haven't hired you to do anything. I think now I'm inclined to find out a little more about you before I do."
Bishop had contacted me through his lawyer, Mark Richie, so I said, "I assumed Richie gave you the dope on my background."
"He did-to a certain extent. In any case, I'd like to hear about it again and I'd also like to ask a few questions."
I shifted a bit in my chair. I'd been through this sort of thing before with clients and it usually had less to do with my qualifications than with the client's reluctance to spill the beans about the assignment. "All right," I said. "Why don't we start with the bare essentials and then you can dig in where you like.
"I've been in the biz now for fifteen years, working mostly down south and here in the Bay Area. Before that I covered the metro beat for the LA Times, and before that I attended UCLA. I've handled most kinds of jobs people hire investigators for, and I've typically given good service for the dollar. I've got a reference list made up of former clients and law enforcement officers that you can check out, but maybe Richie already covered that angle for you. Anyway, that's the top line."
"I'm curious why you moved from journalism to private investigations."
"There's no great mystery. I come from a long line of drunken Irish cops-on my mother's side anyway. My mom's dad, for instance, was chief of police in Santa Monica. When I made the switch to PI work it was just a matter of joining the family business."
"I take it then your father was not in the 'family business?'"
"We don't talk about my father," I said bluntly. "And I'm not interviewing for camp counselor here. Do you think maybe we could stick to relevant questions, or even better, get to the part where you tell me what the hell it is you want done?"
Any hope I had of bulldozing the slight man in front of me was short lived. He bulldozed about as well as Egyptian pyramids. "I will not be rushed, Mr. Riordan," he said, and treated me to another in the series of great beard stroking performances. Then:
"My lawyer recommended you as someone who has had experience investigating so-called 'high-tech' crimes. Is that correct?"
"I've worked on a number of cases that involved the theft of computer chips, if that's what you mean. I wouldn't classify myself as an expert, though."
"I heard from other sources that you retired from private investigations for a time after a run-in with the police in Phoenix, Arizona. It's my understanding that you only recently returned to the business."
"That's correct as far as it goes. I was held for questioning in connection with an incident that occurred during an insurance investigation I was handling. But no charges were ever brought against me."
"What was the exact nature of this incident?"
I grinned at him. "I think you know very well what the nature of the incident was. If you want me to say it to your face, I'll oblige you: I shot and killed three people with a Colt Army .45."
"And that was why you quit?"
"No, I quit because I ran out of bullets."
Bishop stiffened. "I have a right to know something of the background of the men I hire. You are correct in assuming I already knew some of the details surrounding the incident. I wanted to hear your version of the story and assure myself that your decision to return to private investigations was the correct one. I wanted to be sure you still had the resolve for the job."
"Resolve, Mr. Bishop, is something I've got in spades."
Bishop made a strained, wheezing noise like a cat choking on a fur ball. I wasn't entirely sure what to make of it, but I guessed he was laughing. "Yes, I believe you do," he said after the fur had subsided. "Very well, I'll take a chance on you. As I'm sure you're aware, I develop software for computers. I'm quite good at it, and I've made a lot of money as a result. My chief interest is computer games-computer chess being my specialty."
"So that's the tie-in with the chess piece on your front door?"
"Yes, that's right. Having Bishop for my surname makes the tie-in complete." He laughed again, then stopped abruptly. "Listen to me now. I've spent eleven months of my life cooped up in this room writing the best chess program that's ever been developed for a small computer. It's faster, more intelligent, and simpler to play than anything else on the market. I invited Stephen Flamberg-a local GM-to play against an early version of the program and the best he could manage was a draw in two of the three games he played. The third game ended in his defeat."
"I don't want to flaunt my ignorance," I said. "But apart from a large American car company, what's a GM?"
Annoyance flickered across Bishop's face. "A GM, or grandmaster, is a tournament chess player of the very highest caliber. To be classified as a GM, a player must achieve a grading level 2601 in two or more tournaments in which at least 24 games in all are played."
"How many bowls of cereal does your average GM have to eat before he gets the 2601 box tops?"
"Quite humorous Mr. Riordan. The important point here is that no chess program written for personal computers has been sophisticated enough to routinely play a qualified grandmaster to a draw. Mine is the first in history." He paused for effect. "And now it has been stolen."
I furrowed my brow to show my deep concern. "I take it you want me to try and recover the program?"
"Yes, that's the general idea, but there's more to it than simply recovering the software."
"Meaning what?"
Bishop shifted in his chair and stared down at his lap. "I have good reason to believe that one of my female companions stole the program."
"You mean Jodie or Lisa?"
"No. This girl's name is Terri McCulloch. She was employed in the same capacity as the other two girls until recently. We had a disagreement about her duties and I was forced to dismiss her." Bishop looked up from his lap. "I believe she stole the program at the time of her departure to get back at me."
"Then you noticed the program was missing immediately after she left?"
"Not precisely. I put the finishing touches on the program a month ago and then set it aside with the intention of seeking a publisher for the game after a short respite. Terri left my employ the following week, and it didn't even occur to me to check if the program was missing at the time. The first indication I received that the program had been stolen was at a computer trade show I attended last Friday. I was walking around the exhibition stalls and I encountered a computer vendor who was demonstrating a chess program exactly like mine. It was mine in fact."
"You're sure of that?"
"Yes. Absolutely. They hadn't even bothered to make the cosmetic changes necessary to camouflage the software's origin."
"So your idea is that Terri McCulloch stole the program when she was fired and then sold or gave it to the guy at the computer show, who then exhibited the game as his own?"
"Don't strain too hard to keep the skepticism out of your voice Mr. Riordan. That's exactly the way it must have happened."
"Did you ask the exhibitor how he got hold of the game?"
"Yes, yes, of course. He claimed that his company had developed it in-house. But I am well acquainted with the staff at Mephisto Software, and none of their developers are talented enough to produce a chess program of this caliber. That is a moot point in any case: as I told you, I'm quite sure the program was mine."
If I had a beard and was inclined to stroke it, I would have started up right about then. Instead, I rubbed the back of my neck and plowed on:
"I assume you checked to see if your program was missing when you returned home from the trade show?"
Bishop smiled ruefully. "I did indeed. All my copies of the program-including the master-were missing. In fact, they had all been erased from the computer disks where they were stored. That is a key point, too, Mr. Riordan. As you may know, it is relatively easy to make copies of computer software. To steal the program, Terri needed only to copy it off the master disk. She did that, but in addition, she methodically searched out and destroyed every last trace of it from my computer files."
"Leaving you no way to prove that you developed the program originally?"
"Exactly."
"How can you be so sure that Terri McCulloch is the one who took the program?"
Bishop pursed his lips and shook his head wearily like I was a slow learner. "It's obvious. No other valuables were taken and there were no signs of a burglary. That means someone with unrestricted access to the house must have taken it. Jodie and Lisa lack any in-depth knowledge of computers, so they are eliminated. The same reasoning applies to my housekeeper. Terri, on the other hand, has a good understanding of computers. I know because I taught her myself. She also had the motive of revenge from her dismissal."
"Yeah, you were pretty vague on that before. Why did you fire her? Had she developed a chronic headache?"
Bishop didn't catch on immediately, but when he did he reddened and tugged hard on the end of his beard. "That is a personal matter between Terri and myself. I will not tell you anything further about it. If you should speak with Terri in the course of your investigation-and it seems likely you will-I absolutely forbid you to discuss the topic with her."
I could tell by the subtle vibrations in the room that this wasn't a popular topic with Bishop. "Okay," I said, trying to sound properly chastened. "Assuming Terri McCulloch did steal the software, exactly what do you want done?"
"My first priority is the return of my chess program. My second is to secure its return without involving Terri or myself with the authorities. That is my primary purpose in hiring you. If I wasn't still concerned with Terri's welfare, I would have simply phoned the police and reported the chess game missing."
I didn't bother to remind him that he no longer had any proof that he'd actually developed the program. "All right. I'll need addresses for Terri McCulloch and the software firm that exhibited your program at the trade show. Mephisto, you called them?"
"Yes, Mephisto is correct." Bishop opened a drawer in the desk and pulled out a long white envelope that he passed over to me. "You'll find both addresses inside, plus a photograph of Terri and a check for twenty-five hundred dollars. I hope that amount is enough to get you started."
I tucked the envelope into my breast pocket. "Yes, that should get me started and keep me going for a good while. One last question. Have you spoken with Ms. McCulloch or the Mephisto people since you discovered the game at the trade show?"
"No, I was too upset about the whole thing to deal with it rationally. I'm leaving the matter in your hands."
I should have said something like, "I'm sure you won't regret it," but neither Bishop nor I was ready to swallow a line like that so late in the conversation. Bishop didn't offer to see me out. I stood up and shook hands with him over the desk and walked out of the room, down the long hallway to the front door and out onto the porch. I was sort of hoping to find Jodie and Lisa playing volleyball on the front lawn in their bikinis, but evidently they were still occupied by the Monopoly game.
Sighing audibly, I climbed into my car and started down the winding highway towards the Peninsula town of Redwood City. When I passed the point on the road where I had lost my hubcap, I craned my neck out of the car and scanned the underbrush. Nothing doing: I could definitely kiss the crumpets good-bye.
Listen to an Excerpt (click to expand)