Runoff
---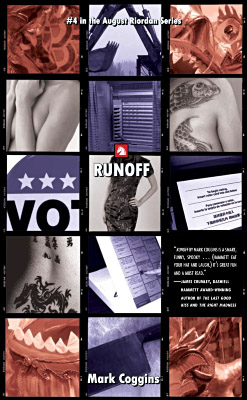 How much does it cost to fix an election? August Riordan—private investigator, jazz bass player, smart ass with a foolish heart—is going to find out. He's been hired by Leonora Lee, the all-powerful "Dragon Lady" of San Francisco's Chinatown, to investigate the results of the city's recent mayoral election. It seems the Dragon Lady's candidate failed to even carry the Chinese precincts, and she's convinced that someone must have rigged the outcome by hacking the city's newly installed touch-screen voting machines.
A runoff between the two remaining candidates is days away, but it takes Riordan mere hours to find the Director of Elections dead in his office. A visit to the offices of Columbia Voting Systems—the suppliers of the city's touch-screen machines—results in another corpse. A wide range of political interests share a stake in the election, so Riordan's got plenty of suspects.
But when the Dragon Lady's beautiful daughter is attacked after giving Riordan a goodnight kiss, it starts to get personal. Soon, Riordan is in a race not only against the runoff deadline, but against powerful political movers and shakers, Chinatown gang members, and crazed anarchists, with only his techno-savvy, cross-dressing friend Chris to help.
The cost of fixing an election runs to as many lives as it does dollars, and if Riordan isn't careful, the price for un-fixing it may be more than he can afford…
Reviews and Recognitions
Selected by January Magazine as one of the best crime novels of the year.
Winner of the Next Generation Indie Book Award in the Mystery / Suspense category.
Selected by Sons of Spade for "Best Wisecracks".
Selected by Cameron Hughes as a top three pick on Crime Fiction Dossier.
Staff pick at The Mystery Bookstore and Poisoned Pen.
"Runoff by Mark Coggins is a smart, funny, spooky … often touching, always entertaining romp through … San Francisco's highways, byways, and alleys of corruption. (Hammett eat your hat and laugh.) It's great fun and a must read."
—James Crumley
"[O]pens with one of the most original action sequences I've read … This creative set piece and the chase that follows through the streets of Chinatown–a pursuit both comedic and futile–sets Runoff apart from any other book that this reviewer has read in the last year, and further establishes author Coggins as a major contributor to the P.I. subgenre…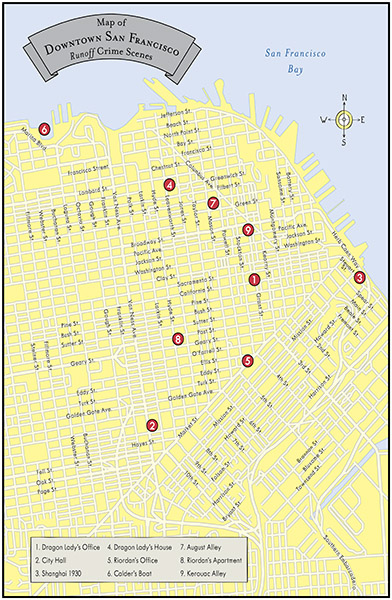 "Riordan and his creator … represent the new, 21st-century breed of writers and characters. 'What's happening with the private eye novel?' is a perpetually popular question among the crime-fiction cognoscenti. Runoff is the answer. To borrow a description from the jazz magazine Downbeat, Coggins is Talent Deserving Wider Recognition."
—Stephen Miller, January Magazine
"[E]vokes a curious timelessness … of classic noir detective fiction. Riordan could have been conjured up by Dashiell Hammett or Raymond Chandler… Through crisp, understated prose, [Coggins] perfectly captures the world-weary integrity of his protagonist. In addition to its seamless characterization and narrative, the novel maintains its dark suspense until the gripping conclusion unfolds … [A] noir gem."
—Lynne Maxwell, Mystery Scene Magazine
"[H]arrowing … exposes the dark underbelly of American politics."
—Publishers Weekly
"[D]eliciously quirky … panache to spare."
—Kirkus Reviews
"[R]ead this book … Mark Coggins has taken us back into the world of strong PI fiction."
—Barb Radmore, Front Street Reviews
"The most surprising novel of the year."
—Cameron Hughes, Crime Fiction Dossier
"It's the San Francisco we know and love, writ large."
—Betsey Culp, San Francisco Flier
"A wisecracking, hard-boiled private-eye yarn … Not only is the writing snappy in this fourth appearance of PI and jazz musician August Riordan but the story is as full of twists and turns as its setting, San Francisco's Chinatown. While echoing Chandler and Hammett, Coggins advances the genre into the Internet era."
—Booklist
"[V]ery entertaining, thought provoking, and a right good read. Riordan is a complex character in an interesting world."
—Crimespree Magazine
"[T]he easy, humorous style, details on computerized election fraud, and sharply observed Bay Area background make it all most enjoyable."
—Jon L. Breen, Ellery Queen's Mystery Magazine
"A plot that is at once classic-hardboiled and thoroughly modern, a tale of real estate moguls and political hopefuls in collusion to rig elections and reap the profits … A lessor writer might have made a muddy morass of such a mix and mired the readers in it, but with a deft and sound hand, Coggins structures an elegant bridge to span the chasm between the war years and today."
—Shannon Clute and Richard Edwards, Behind the Black Mask
"Runoff is at once a biting, witty, very timely commentary on our flawed electoral system, and a fast-paced page turner you won't be able to put down. Mark Coggins has written the must-read PI novel of the year."
—Jason Starr, author of The Follower
"I love a good private eye story and Coggins delivers in spades."
—Barbara Peters, Poisoned Pen Press
"[H]ad me laughing out loud."
—P. J. Coldren, Reviewing the Evidence
"Classic noir, brought bang up to date. August Riordan is a hero with a heart. You're with him every inch of the way as he stalks the mean streets of San Francisco's Chinatown, confronting crooked pols, anarchist squatters, psychopathic software engineers, and cleaver-wielding gangsters, with betrayal lurking around every corner. A wild ride."
—Peter Tasker, author of Samurai Boogie and Buddha Kiss
"Great PI novels are as hard to come by as honest elections, but Mark Coggins' Runoff comes through in spades—Sam Spades, that is."
—Craig Johnson, author of Kindness Goes Unpunished and Death without Company