Street Stories
---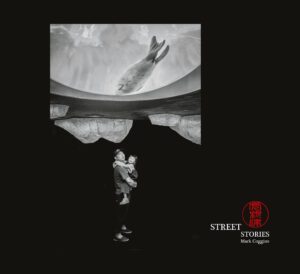 Mark Coggins is best known for his award-winning series of crime novels featuring private eye protagonist August Riordan. But observant readers will know that many of the Riordan books are illustrated with scene-setting photographs taken by him. Now, in Street Stories, Coggins points his lens at the broader world, capturing images of daily life from cities across the globe that, as he says in his artist statement, "convey the energy, communal bonds, and in some cases, inherent mystery and alienation of urban life."
The lushly produced volume from Poltroon Press includes 52 black and white images reproduced in tritone from the cities of Amsterdam, Berlin, Kyoto, New Orleans, Palermo, Prague, San Francisco, Tokyo, and many more—each evoking a narrative. As the Chicago Tribune commented in a review for an exhibition featuring Coggins's work, "People like to put a story to the art they look at. That aspect really comes across in the work. We can see where the two aspects of his life [author and photographer] really complement each other."
The book closes with an essay on street photography by writer, publisher, and letterpress printer Alastair Johnston.
Reviews and Recognitions
"[Included image] 'Shadow Play' … abounds with a sense of adventure, discovery and companionship. The dynamic composition pits running kids against their playful shadows and corrals contrasting tones, textures and lines into a square format brimming with vitality."
—Elin Spring & Suzanne Révy, What Will You Remember? photography magazine
"Coggins the photographer is less well known than the writer, though observant readers will have spotted the fact that the Riordan novels are in fact illustrated with the author's own work. What do we see? Hippies, ugly folk, innocent children, rugged homeless people, modern Japanese bijin-ga, the whole parade of life's stage passing before his eyes. But it's his moment, his framing that arrests our gaze.
"And while the mask we wear in public rarely comes down, a sharp-eyed photographer finds those cracks in the facade."
—Alastair Johnston from included essay, "Unknown Histories"
"People like to put a story to the art they look at. That aspect really comes across in the work. We can see where the two aspects of his life [author and photographer] really complement each other."
—Chicago Tribune