Candy from Strangers
---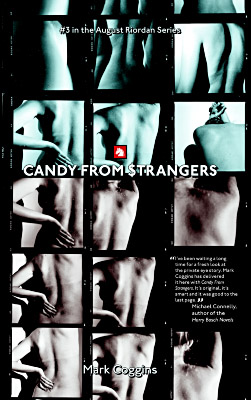 Caroline Stockwell has a secret: she and her best friend Monica are "cam girls". Soliciting cash donations and gifts via Amazon.com wish lists from anonymous admirers, the young women have put up a web site featuring still photographs, video and web diaries (aka blogs) to help pay their way through art college. But when Caroline goes missing and her mother Ellen engages jazz bass-playing PI August Riordan to find her, Riordan discovers her secret and it appears to everyone that someone she met through the web site is responsible for her disappearance.
Set against the real-world backdrop of Internet predators using social networking sites to find and ensnare their victims, Candy from Strangers is the first novel to explore the phenomenon of teenagers and young adults displaying themselves online in exchange for material favors—often without their parents' knowledge—which some are calling the newest form of prostitution.
Reviews and Recognitions
Bronze Independent Publisher Award (IPPY) in the Mystery / Suspense / Thriller category.
Selected by the East Bay Express as their #1 mystery buy.
Selected by NPR's KQED for The Writers' Block, featuring writers and performers of all stripes reading the latest short fiction, non-fiction, theater and poetry.
"Coggins recreates the private eye novel from scratch, breathing new life into it, standing every cliche of the genre on its ear. In turn fall-down funny, then dark and brooding, [it] ends up being a sly examination of all that's wrong—and right—with today's youth-driven society … [it's] a hell of a read."
—Joe Gores
"I've been waiting a long time for a fresh look at the private eye story. Mark Coggins has delivered it here … It's original, it's smart and it was good to the last page."
—Michael Connelly
"[A] gripping … hard-boiled exploit… Riordan's street smarts and witty asides will make him a familiar—and welcome—figure to fans of Robert Parker's Boston PI, Spenser."
—Publishers Weekly
"This third outing for Coggins's private investigator August Riordan proves him a worthy successor to the iconic Sam Spade… [A] volume that fits comfortably alongside those of Hammett and Chandler. Heartily recommended."
—Library Journal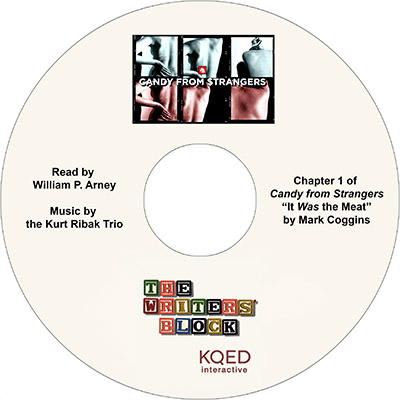 "A mystery that puts on paper the problems modern society has with a need for instant gratification and a social structure more and more based on computer screens and keyboards. Coggins makes human and real what is to many just a story in the news. And he does it with humor, skill and depth."
—Jennifer Jordan, Crimespree Magazine
"Crackling and whip smart … Coggins' novel reincarnates the heady excesses of earlier chroniclers of debauchery in the Golden State, such as Roger L. Simon and Arthur Lyons."
—Derek Hill, Mystery Scene Magazine
"Is Riordan San Francisco's version of Robert Parker's Boston PI, Spenser? Could be, could be."
—Jack Quick, Book Bitch
"Coggins knows his roots and he knows his town, pays homage to both and, in so doing, creates a fine PI novel. For those of you looking for the writer you may have missed, here's a third chance to discover Coggins."
—Sally Owen, Bookaholic
"Yes, [this] is a fun, enjoyable, droll and snappy page-turner—but it's more than that, too. This little gem of a book has a very human heart, revealing a keen understanding not just of how and why young girls go missing, but how and why all of us keep missing each other."
—David Corbett
"Sourpuss secretaries, predatory professors, greedy gurus, sanctimonious shrinks … [a] well-crafted cast of characters, led by [a] smart-stepping shamus."
—Kirkus Reviews
"Riordan rides again! Candy from Strangers is an inventive novel in the classic San Francisco private-eye tradition."
—Marcia Muller
Read an Excerpt (click to expand)
Chapter 1 – It Was the Meat
When Henry Glover wrote It Ain't the Meat (It's the Motion) in 1952 for the King Records R&B group The Swallows, I'm sure he never anticipated the trouble it would cause. The Swallows had made a modest hit of the song, but the risqué lyrics and the fact that white kids weren't buying many records from black groups limited its play. It took Chris Duckworth belting it half-century later to really do some damage.
It was Fleet Week in San Francisco and Chris and I were playing our regular Tuesday night gig at House of Shields on New Montgomery. With his shimmering, form-fitting gown, pearl necklace, dangling sea horse earrings and the blond hair from his wig piled high with a scallop shell and gold chopsticks to fix it in place, he looked like a hottie from the mermaid escort service. And while the maritime theme had not gone unnoticed or unappreciated by the nearly three dozen whistling, caterwauling sailors on shore leave, what had been completely missed by all but a few regulars wearing smug expressions of barely suppressed glee was the fact that the singer was a man.
We were a pickup quartet that night—and a ragged one at that. Tristin Sinclair was hammering ivory on the beat-up—and always out of tune—house upright, Nick Dundee was doubling on muted cornet and valve trombone, but was having problems with his embouchure, and I was playing a borrowed upright bass that was painted acrylic white and sounded even worse than it looked. Equipment problems aside, we had gotten through the first set without much trouble, but when we took our places on the miniscule bandstand for the second, I could tell we were in for a rougher ride.
Between trips to the bathroom to freshen his makeup and flit ting around the sailors' tables and booths to sign autographs ("All my love, Cassandra"), Chris had managed to down three Cosmopolitans purchased by his seafaring fans. Now he was swaying to an imaginary tune as he came up the steps, and when he lunged for the microphone, hugged it like a fire pole and flicked it on to slur, "I hope you boys are going to serve out your full tour … because there's nothing sadder than a bunch of prematurely discharged seamen," the hooting, whistling and stamping from the crowd fell on us like a naval bombardment.
I'd become friends with Chris on my "day job" as a private investigator while looking into a software theft. But if a straight, curmudgeonly private eye and a gay—and chronically unemployed—computer engineer were an unlikely match for friendship, even more unlikely was the warped father/son tenor the relationship had assumed. I felt myself slipping into the father role again as I took a quick step forward to tug at his gown. "A little less cheese for the mousetrap."
This earned me nothing more than a broad wink from Chris and a shouted, "Leave the lady alone, Liberace," from a hefty, sunburned kid with pig eyes. The Liberace crack came from a joke Chris had made about my white bass when he introduced the band.
Impatient with the byplay, Sinclair mashed his trademark pork pie hat further down on his bald head and called, "Devil and the Deep Blue Sea." He counted off the tempo and cued Dundee, who brought his trombone to his mustached lips to lead us through an eight bar intro. Chris moved his hips in time to the music and when we got to the head, he began Ted Koehler's lyric, "I don't want you… " in a rich contralto. He sounded phenomenal. So phenomenal, in fact, that if I squinted at him as he sashayed around the mike, I didn't have any trouble believing I was listening to a beautiful woman singing the Harlem Cotton Club classic.
The sailors had even less trouble. At the end of the tune, they rose as one man to give Chris a standing ovation. One wholesome-looking nineteen-year-old farmer's son from Nebraska or Wisconsin—or someplace where the phrase "gender bending" was not in regular use—snagged a bouquet from a Hispanic woman selling flowers and laid it lovingly at Chris's feet. Chris blew a kiss at him as he returned to his seat near the front of the stage, and the combination of the attention from Chris and the cheers from his compatriots caused the kid's face to light up like he'd won the 4-H Club ribbon.
Chris looked back at me with a power-drunk expression that was one part exaltation and two parts mischief. He had them in the palm of his hand, his expression seemed to say, and now he was going to squeeze. He turned to Sinclair. "It's time," he said. "Play Meat."
Sinclair rolled his eyes and mumbled something in a derisive tone, but it was too loud in the bar for me to hear exactly what. When I put my hand to my ear to indicate I'd missed it, he waved me off and began counting the tempo like he was shouting commands to a firing squad. At the end of the four count, Dundee came in to do a solo of the first chorus on cornet. Chris danced around the stage through the bridge, rolling his shoulders and making little pointing motions in the air in time to the beat. Then he brought his hands to his hips, sidled up to the microphone and sang almost coyly, "It ain't the meat, it's the m-o-t-i-o-n," emphasizing the word "motion" with a growl and a galvanic thrust of the pelvis.
Such noise-making as the sailors had done to that point was the whispered chanting of Buddhist monks in far away Tibetan valleys compared to what they did then. The remainder of the chorus was completely drowned out and the vibrations from their stomping and pounding knocked over several of the bottles at the back of the mirrored bar. Chris grabbed the microphone off the stand and belted out the third and fourth choruses, teasing the sailors into a frenzy with a bawdy pantomime that involved rubbing his backside with the microphone cord as he sang the line about wrapping around "her" man like a rubber band.
He put the microphone back as Sinclair began a solo on piano and then beckoned to his farmer boy. The kid came running up to the stage with a dizzy eagerness. I saw Chris bend to greet him and then reach for the neckline of his gown. There was a sudden movement that his torso blocked, and then one of Chris' falsies sprang from his chest region and flopped onto the floor in front of the kid.
Chris had decided to show his fans he had more in common with them than they realized.
The kid's face registered bewilderment and then shock, and as the noise from the audience drained away like water in a dirty bathtub, Sinclair's piano solo began to sound very loud and very lonely. Chris straightened and moved back from the edge of the stage, a manic grin on his face as he continued to flash his nipple—and his oh-soflat-chest—to all who wanted to see them. There were not many.
Sinclair finished his solo and Dundee started bravely in on cornet, but someone in the audience shouted, "faggot," and another, drunker voice yelled, "Hambert, why don't you give your cutie a kiss?"
I presumed Hambert was the farmer's son, and when he wheeled angrily in the direction his tormentor, I knew it. "Shut the fuck up," he shouted, his voice breaking with emotion. "Don't ask, don't tell," came the rejoinder. Hambert tore the white cap from his head and flung it to the ground. He turned back to the stage and stood rooted with his fists clenched as he watched Chris release the material of his gown, take several tentative steps back and wave placatingly in his direction.
"Chris—" I shouted, but it was too late. Hambert flashed onto the stage with his fist cocked and landed a tremendous shot to Chris' right eye. The sailors in the audience gave a collective whoop. Chris' blond wig flopped forward to reveal his own blond locks under a hair net and he dropped to the floor like a clubbed seal. There were more shouts, and before I could move out from behind the bass, a beer bottle came sailing across the stage where it shattered against the bell of Dundee's cornet. Fortunately, Dundee had pulled the instrument away from his lips, but the force of the impact drove it back, and he yelped in pain as he hunched instinctively to avoid the flying glass.
I threw the bass to one side and took a skipping step forward to where Hambert stood over Chris, still blinking with surprise at the results of his assault. I'm sure he was nice to the dairy cows in Wisconsin, but I didn't hesitate an instant before burying a left uppercut in his midsection. I followed it with a right hook to the side of his neck as he bent over the first punch, and he bounced off my knee on a quick ride to the floor.
If I thought I was getting away with anything, a swinging beer bottle aimed for my ear persuaded me to the contrary. It missed my ear and tenderized my shoulder instead. The stage was now swarming with sailors and I twisted to find the bottle in the hand of the kid with pig eyes. I grabbed him by his little black kerchief and yanked him and his groin into speaking distance with my left knee. It was a short conversation.
Almost immediately an arm came around my throat and started choking me from behind. A horse-faced guy with an overbite and three stripes on his sleeve who didn't bother himself with vague concepts like "fair fight," took the opportunity to start pounding my mid-section while I grappled with the choke hold. It wasn't looking any too good for me, but for two things: a short burp of siren from a SFPD cruiser that pulled up outside, and Nick Dundee's trombone coming down on the head of the sailor behind me with a jarring clang.
The choke hold loosened immediately, and the stevedore or cabin boy or whatever rank is associated with three stripes turned to look out the plate glass window of the bar. When he turned back, I gave him a fistful of treatment for overbite. He took two tottering steps back and fell off the stage.
"For a guy who's not wearing his own front teeth, you're awful quick to smash other people in the mouth," said a voice I recognized as Dundee's. "Just trying to make the world over in my image." Dundee had a fat lip of his own where the cornet had jammed him and there was a cut next to his soul patch from the flying glass. He shoved the trombone into my hands. "Get the instruments. I'll get Sleeping Beauty."
I nodded my agreement and took a quick step over to the piano bench where his cornet was lying. By the time I turned back, all the sailors who were conscious had abandoned the stage and were trying to wedge themselves through the swinging front doors before the cops came in. Chris was still on the ground, but was struggling to lever himself up on one elbow.
"Where's Sinclair?" I asked.
"Long gone," said Dundee. "He ducked out before the first swabbie hit the bandstand."
Dundee pulled Chris roughly to his feet and I saw that his eye was already swollen shut. "Jesus," he said in a petulant tone. "Haven't these guys ever heard of performance art?"
I grinned in spite of myself. "After that stunt, they're probably thinking more along the lines of counterfeit art."
"Come on, you," said Dundee. He pulled Chris toward the rear of the stage.
I put a horn under each arm and bent for the string bass. When I looked up again, Chris had managed to twist out of Dundee's grasp. "Not so fast," he said. "I need my wig and falsie. Those silicon-filled babies with the erect nipple cost a fortune."
"You're lucky to get out of here with your head attached—much less your falsie," sneered Dundee. "Just hurry the fuck up, will you?"
Chris trod a wavering path back towards the front of the stage, but then gasped at the sight of Hambert smeared across the floor. He dropped to a place by his shoulders and reached down to smooth the hair on his forehead, eliciting a low groan from the sailor. He snapped his gaze up at me, tears glistening in his one good eye. "What did you do to him, August?"
"I punched his lights out. What the hell else did you expect me to do? The guy took a swing at you."
"He was just confused and embarrassed. There was no need to brutalize him. Will you look at the mark on his neck?"
Cursing under his breath, Dundee moved past me to snag the wig and the falsie from the littered stage. On his way back, he yanked Chris to his feet again and dragged him up to me. "This will teach you not to get involved in domestic disputes, August."
"Amen to that."
Juggling the horns and the bass, I negotiated the drop off the back of the bandstand and Dundee followed with Chris in tow. We went down a dim, heavily-paneled corridor, past a stuffed deer with a constipated expression and disapproving glass eyes and out a door that opened on an alley running between New Montgomery and 2nd Street.
The night air was heavy with fog and the emergency lights from two patrol cars at the mouth of the alley stabbed through it with red and blue flashes. A sailor bent on getting clear of the cops pounded by us on the sidewalk without so much as a glance in our direction. Many more of them stampeded down New Montgomery towards Mission, but the one cop I could actually see by the cars seemed more concerned about staying out of their way than catching them.
Dundee nudged my arm to get my attention and jerked his chin toward 2nd Street. A late-model Mercedes with tinted windows seeped into the alley and rolled to a stop beside us. The power windows on the passenger side slid down and all of us bent to look in at the driver.
"Hello jolly fellows," said a smirking Tristin Sinclair from behind the wheel. "Anyone here needing rescue?"
I ignored Sinclair and straightened to look at Dundee. "What's with the car?"
Dundee sighed. "His wife inherited money," he said simply. He took the cornet from under my arm and passed it in to Sinclair. He took the trombone, but then paused to examine the tuning slide where it had beaned the sailor.
"Any damage?" I asked.
"Nothing serious—just a little dent. Maybe it will give me a new sound—like Dizzy's bent trumpet. How's the bass?"
"Constructed as it is of the finest plywood from the forests of Newark, New Jersey, I'd say it would take more than a boatload of sailors to hurt it."
"Yes, I suppose so." Dundee handed the trombone into the car and then passed me the wadded up bunch of wig and falsie that he still held. He pulled open the door and situated himself in the passenger seat.
I closed the door behind him and leaned into the window. I finally said the thing we both were thinking the whole time we were talking about the instruments. "Hope your lip's okay."
"It'll be fine. I needed to rest it anyway." I nodded and then moved to step back from the car, but he took hold of my wrist. "I don't have to tell you that I'm not playing any more gigs with Cassandra here."
"You don't have to tell me."
"Take care, August."
He released my wrist and punched the button to roll up the window. Sinclair put the car in reverse and backed slowly out the way he had come. When he reached 2nd Street, he turned and went south towards Mission.
"Are you mad at me?" said a voice at my shoulder.
I frowned and looked at Chris. "What do you think?"
"I think you're mad, but not so mad that you won't loan me 40 bucks."
"I'll give you a ride home. You don't need to take a cab."
"I'm not going home. I'm going back in there." He pointed at the door of the bar.
I suppose I should have been surprised, but somehow I knew it was coming. "It's that kid, Hambert, isn't it?"
He nodded slightly, causing his sea horse earrings to swing wildly out of proportion to the original movement.
I stood there with my jaw clamped, watching them swing for a long moment, then threw down the falsie and wig, manhandled the bass up against the brick wall of the building and yanked out my wallet. I scooped out all the cash—a hundred bucks at least—and shoved it down the neckline of his gown on his flat side. "There," I spat. "Take it. Now maybe you won't look so lopsided when the ambulance attendant lays you out on the stretcher."
I had already picked up the bass before he managed to blurt something inarticulate, and I was all the way to the cop cars at New Montgomery before I heard him shout, "Wait. August. You don't understand."
I threaded between the cars and came up to the officer I'd seen earlier. He stood at the back of the second car holding the microphone to his portable radio. I smiled and nodded at the flashing red emergency lights.
"Red sky at night," I said. "Sailor's delight."
He gave me a bored look, glanced down at his watch, then shook his head. "It's already past midnight, chum. Sailor take warning."
Listen to an Excerpt (click to expand)