Candy from Strangers
---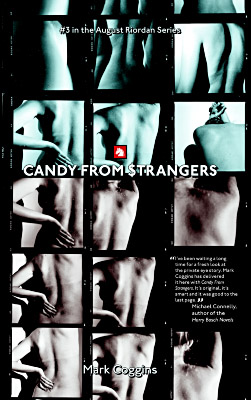 Caroline Stockwell has a secret: she and her best friend Monica are "cam girls". Soliciting cash donations and gifts via Amazon.com wish lists from anonymous admirers, the young women have put up a web site featuring still photographs, video and web diaries (aka blogs) to help pay their way through art college. But when Caroline goes missing and her mother Ellen engages jazz bass-playing PI August Riordan to find her, Riordan discovers her secret and it appears to everyone that someone she met through the web site is responsible for her disappearance.
Set against the real-world backdrop of Internet predators using social networking sites to find and ensnare their victims, Candy from Strangers is the first novel to explore the phenomenon of teenagers and young adults displaying themselves online in exchange for material favors—often without their parents' knowledge—which some are calling the newest form of prostitution.
Reviews and Recognitions
Bronze Independent Publisher Award (IPPY) in the Mystery / Suspense / Thriller category.
Selected by the East Bay Express as their #1 mystery buy.
Selected by NPR's KQED for The Writers' Block, featuring writers and performers of all stripes reading the latest short fiction, non-fiction, theater and poetry.
"Coggins recreates the private eye novel from scratch, breathing new life into it, standing every cliche of the genre on its ear. In turn fall-down funny, then dark and brooding, [it] ends up being a sly examination of all that's wrong—and right—with today's youth-driven society … [it's] a hell of a read."
—Joe Gores
"I've been waiting a long time for a fresh look at the private eye story. Mark Coggins has delivered it here … It's original, it's smart and it was good to the last page."
—Michael Connelly
"[A] gripping … hard-boiled exploit… Riordan's street smarts and witty asides will make him a familiar—and welcome—figure to fans of Robert Parker's Boston PI, Spenser."
—Publishers Weekly
"This third outing for Coggins's private investigator August Riordan proves him a worthy successor to the iconic Sam Spade… [A] volume that fits comfortably alongside those of Hammett and Chandler. Heartily recommended."
—Library Journal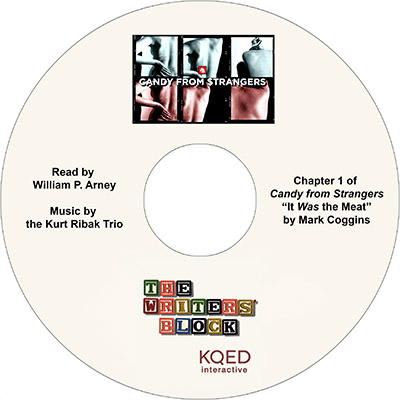 "A mystery that puts on paper the problems modern society has with a need for instant gratification and a social structure more and more based on computer screens and keyboards. Coggins makes human and real what is to many just a story in the news. And he does it with humor, skill and depth."
—Jennifer Jordan, Crimespree Magazine
"Crackling and whip smart … Coggins' novel reincarnates the heady excesses of earlier chroniclers of debauchery in the Golden State, such as Roger L. Simon and Arthur Lyons."
—Derek Hill, Mystery Scene Magazine
"Is Riordan San Francisco's version of Robert Parker's Boston PI, Spenser? Could be, could be."
—Jack Quick, Book Bitch
"Coggins knows his roots and he knows his town, pays homage to both and, in so doing, creates a fine PI novel. For those of you looking for the writer you may have missed, here's a third chance to discover Coggins."
—Sally Owen, Bookaholic
"Yes, [this] is a fun, enjoyable, droll and snappy page-turner—but it's more than that, too. This little gem of a book has a very human heart, revealing a keen understanding not just of how and why young girls go missing, but how and why all of us keep missing each other."
—David Corbett
"Sourpuss secretaries, predatory professors, greedy gurus, sanctimonious shrinks … [a] well-crafted cast of characters, led by [a] smart-stepping shamus."
—Kirkus Reviews
"Riordan rides again! Candy from Strangers is an inventive novel in the classic San Francisco private-eye tradition."
—Marcia Muller