The Dead Beat Scroll
---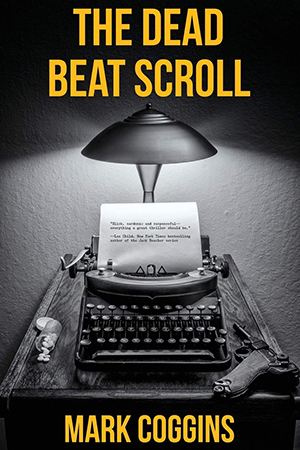 Private investigator August Riordan returns to San Francisco to avenge the death of his friend and one-time partner, Chris Duckworth. Duckworth has taken over Riordan's old business, his old office, and even his old apartment, and Riordan suspects Duckworth's death is linked to the missing-person case he was working when he died.
An alluring young woman named Angelina hired Duckworth to look for her half-sister, but what Riordan finds instead is a murderous polyamorous family intent on claiming a previously unknown manuscript from Beat writer Jack Kerouac.
Following clues from Duckworth and a trail of mutilated bodies left by the family, Riordan soon realizes that avenging his partner will first involve recovering the manuscript—then saving Angelina and himself from kidnap, torture, and death. As the bodies pile up, Riordan must work with old allies and enemies to untangle Duckworth's last case before time runs out.
Reviews and Recognitions
Selected as a featured title by Crime Fiction Coordinator Scott Montgomery of Austin's BookPeople.
"Slick, sardonic and suspenseful — everything a great thriller should be."
—Lee Child, New York Times bestselling author of the Jack Reacher thrillers
"Fast-paced excursion into the remnants of San Francisco's lost bohemia… Alternately comic, sad, lurid, impossible, blasphemous, and just plain fun."
—Domenic Stansberry, Edgar-winning author of the North Beach Mystery Series
"Glorious potpourri of violence, black humor, … sex, and a hunt for a lost manuscript… Read The Dead Beat Scroll, and enjoy again the type of mystery novel that defined this genre."
—New York Journal of Books
"Updates the San Francisco gumshoe while paying homage to Jack Kerouac… Fans of Robert Crais's So-Cal sleuth Elvis Cole will find a similar vibe transported to the Bay Area."
—East Bay Express
"Truly terrific… The stunning shots framing each chapter of The Dead Beat Scroll are his and are definitely worth a look."
—The Stiletto Gumshoe
"[T]erse, ironically wry… The body count is considerable in The Dead Beat Scroll, but there's a quiet certainty that August Riordan is the man to avenge Chris Duckworth's death; Riordan is relentless."
—Criminal Element
"Great traditional private eye tale… that is often at its best when it unabashedly leans into the classic tropes."
—Mystery People
"[V]ery well written PI story set in modern San Francisco… plotting and story arc are precise, controlled, and well-orchestrated. It's fast paced and action filled."
—Nonstop Reader
"[F]ast-paced and propulsive, written in a style reminiscent of Raymond Chandler, with a plot that will surprise the reader."
—The Townsman