No Hard Feelings
---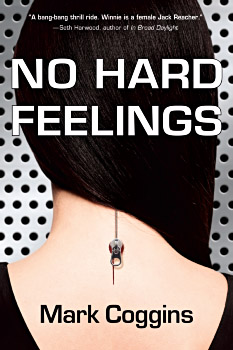 Winnie doesn't remember the last time she felt anything below her neck. Her spine is severed at the seventh vertebrae, but thanks to implants from a sabotaged biomedical start-up, she has regained mobility. She is a prototype: a living, breathing—walking—demonstration of revolutionary technology that never made it to market.
Her disability has become her armor. Because she doesn't register fatigue, she has trained relentlessly. Her hand, arm, and leg strength are off the scales for a woman, and she has honed self-defense techniques to channel that strength. She's a modern-day Amazon who feels no pain.
When the sociopath who torpedoed the start-up sends killers to harvest the implants from her body, Winnie must team up with broken-down private investigator August Riordan to save both their lives—and derail sinister plans for perverse military applications of the technology.
Reviews and Recognitions
Number one bestseller in hardcover at Borderlands Books for September, 2015.
Staff pick at The Poisoned Pen Bookstore.
Selected as a finalist for the ForeWord Reviews Book of the Year in the Thriller & Suspense category.
Highlighted in J. Kingston Pierce's year end round-up for Kirkus Reviews.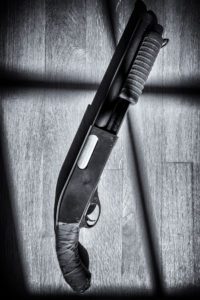 "[I devoured] this one like an apple fritter at Bob's Donuts… The exchanges between Winnie and Riordan are delicious and sarcastic. They bristle and jab at each other. And occasionally bite…  Winnie and Riordan make for a bawdy, spunky pair… No Hard Feelings is the perfect title for a funny book with a rip-roaring plot… [that makes] winning points about what makes us human—or not."
—Mark Stevens, Don't Need a Diagram
"August Riordan returns in a fast-paced new novel that is equal parts hard-boiled and tech thriller… Mark Coggins' No Hard Feelings is a blast to read. Fans of James W. Hall and Brendan DuBois will find a lot to like."
—Ian Kern, Mysterious Bookshop
"Hits you like an avalanche and carries you along at a breakneck pace."
—John Hegenberger, Have Fun
"Summer blockbuster… an engaging and fun read."
—Jochem Vandersteen, Sons of Spade
"A bang-bang thrill ride. Winnie is a female Jack Reacher."
—Seth Harwood, author of In Broad Daylight